RESULTS &nbspYOU CAN SEE

Skin concerns: acne, monthly breakout, scars, dull skin, large pores, uneven tone
Results after 4 treatments
Fabian | 32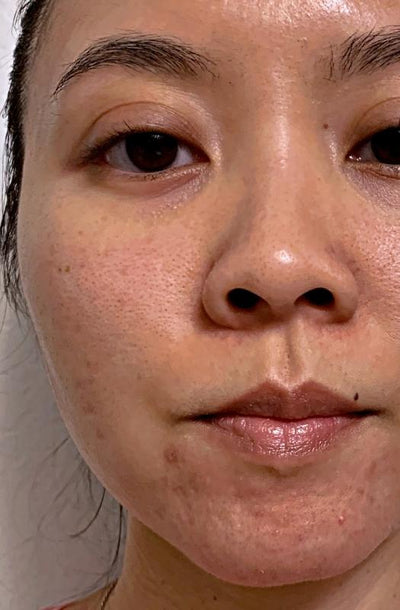 BEFORE
AFTER
Skin concerns: saggy, deep wrinkles, crows feet, loss of firmness, dry, dull, dark spots,
Results after 3 treatments
Veda | 65
BEFORE
AFTER
Skin concerns: oily, dull skin, large pores, uneven tone, sun spots

Results after 1 treatment
Laura | 28
BEFORE
AFTER
SEE OFFER >
60-Day Money Back Guarantee
The Facelift
in Action
1. Activate
Combine ingredients in a bowl and mix for 20 seconds.
2. Transform
Apply and wear gel mask for 20 minutes and feel your skin rejuvenating.
3. Radiate
Enjoy your lifted, smoother, softer skin.
To improve and maintain results, continue
wearing the mask one-two times a week.
*Results may vary by skin conditions.
Shop &nbspwith Confidence
Clean Formulation
For all products
Formulated in USA
With potent and highest
quality ingredients
Expedited Shipping
All orders processed
within 48 hours*
Auto Replenishment
So you never run out of
your favorite products
Satisfaction Guaranteed
60-day returns if you're not in
love with your product*
Shop Facelift System -
weekly oasis™
Elevate your beauty ritual and enjoy an endless source of renewal.
The Gift Set (Best Value)
Frequently
Asked Questions
How do I use Lā SEN Weekly Oasis™ Facelifting Gel Mask?
+
Step 1. Cleanse skin and blot dry.

Step 2. Empty the Gel Solution into the Lotus Bowl. Then, empty the Lifting Serum into the bowl. Activate the mask by mixing the two formulas for 20 seconds using the La Sen brush.

Step 3. Using the brush, apply the gel mask to the skin and allow it to work for 20 minutes.

Step 4. Wipe gently with a wet towel or rinse with warm water to remove the mask from skin. Apply moisturizer as needed.
Why is Weekly Oasis™ packed in individual packaging?
+
The Lā SEN Facelifting Gel Mask is individually packed to maintain optimal freshness and efficacy of active ingredients.

The gel mask must be used IMMEDIATELY after opening. Each set is for single use only.
Is this Mask formulated with only clean ingredients?
+
Yes. Lā SEN goes above and beyond clean beauty standards. We have ZERO hidden ingredients and are NEVER MADE with fillers, sulfates — SLS + SLES, parabens, artificial colorants, formaldehydes, phthalates, mineral oil, retinal palmitate, oxybenzone, acrylates, animal oils/fats, benzophenones, and DEA/TEA/MEA/ETA.
Is this Facelift Mask safe for sensitive skin?
+
Since our product is formulated with only clean and highest quality ingredients so it is safe for even the most sensitive skin, while being highly effective. Please follow the instruction for use if you have super dry and sensitive skin.
How often should I use the mask?
+
For best results, use one or two times per week. Results will be visible and your complexion improved over time. Once desired results are achieved, you may use less often.
Can I leave the mask on for longer than 20 minutes?
+
Yes, you can leave the mask on for up to 30 minutes, but we recommend using for 20 minutes on your first application as the formula is highly concentrated. For super sensitive skin in dry weather conditions, you can leave the mask for about 15 minutes in your first treatment.
My skin feels tingly and/or flushed while applying the mask. Is this normal?
+
Yes. Once the gel mask is activated and spread onto the skin it rapidly goes to work on a molecular level from the top to the deepest layers of skin to reverse the signs of aging, so it's normal to experience some redness or tingly due to 4D Lifting technology combined with peptides and other active ingredients increase blood circulation and start skin regeneration, especially if you have fair, super sensitive and dry skin. Redness will subside within 1-2 hours.
Can I apply makeup after using the mask?
+
Yes, your makeup will look flawless after using the mask. You will be amazed at how glowy and airbrushed your skin will appear. If you love the "no makeup-makeup look" or to use less makeup, this mask is made for you. You can apply makeup right after using the mask or wait 15 minutes to allow maximum rejuvenation.
Can I use the mask if I have injections or fillers?
+
Please consult with your doctor to see how long you should wait if you have had recent injections.
Can I use the mask after chemical peels, retinoids, acids, laser or other medications?
+
All those medications require the skin to go through a one to two weeks healing process. Our Weekly Oasis™ Facelifting Gel Mask is a professional anti-aging facial treatment with intense tightening and lifting effects, so please wait for your skin to fully recover from those treatments prior using the mask. Please consult your dermatologist if you are using such medications.
Can I use this during pregnancy or nursing?
+
Our formulations are clean and safe for all skin types and for your health at any age.
Please consult with your doctor if you are pregnant or nursing prior using our mask.
How do I clean the brush and bowl?
+
Brush and bowl are reusable for multiple times. Be sure to save them for your next applications. Simply rinse in warm water or a mild face soap may also be used. Allow brush to dry flat.
Can I apply the mask on my neck and chest?
+
Yes! We love to use the mask on our neck, decolletage, and back of our hands or anywhere skin is noticeably aging for maximum skin rejuvenation.
Our ingredients are not only carefully selected, but also 100% vegan, gluten-free, non-GMO and never tested on animals from ingredient to finished product for clean-conscience skincare.